Pet DeFence Hidden Dog Fences
The Kansas City area's Dog Fence Experts – Proudly made in the USA
Since 1993 we have delivered safety, convenience, and peace of mind to your family and freedom for your pets to roam but not leave your home! We provide professional installations and training, as well as independent support for Invisible Fence® brand systems and factory recommended support for all other brands of underground pet containment fences.  Call 913-345-2533 or click here for your free estimate.
Award-winning Local Hidden Dog Fencing Dealer
Pet DeFence® has an A+ Better Business Bureau rating and is the continuous recipient of "Angie's List® Super Service Provider Award" from 2012 thru 2019 with over 140 "A" reviews. See them at Angie's List. We won the "Best of Olathe 2020" award. They love us on Yelp. Also, check out our 154+ "5-Star" Google reviews.
Roger McCoy, founder, and owner of Pet DeFence®, has more years of experience in this industry than the other two leading fence companies salespersons and new owners combined.
Pet DeFence Is the Top Choice for Local Veterinarians
72 local veterinarians recommend Pet DeFence® hidden dog fences and 35 of them trust their family's dogs' lives to our underground dog fences, even after owning and changing from other brands of electronic underground fencing, including the Invisible Fence® brand.
Check our Vet References to see if your vet is on our list.
Pet DeFence Is Preferred by Your Discriminating Neighbors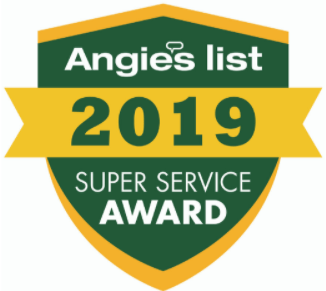 More than 4,000 other satisfied customers recommend us. In fact, well over half of our hidden pet fence customers come from referrals. You can see why our reputation and training methods are our most cherished assets.
Your Dog Deserves a Pet Stop Brand Hidden Dog Fence
Simply put, we offer only the best dog fence training, equipment, service, and installation in the industry. Our goal is to give you peace of mind while keeping your pet comfortable and safe.
Pet DeFence specializes in pet containment using hidden dog fence solutions and features Pet Stop® electronic dog fence systems. We provide sales, installation, "GentleStart™" and "SafeYard™" training and service for complete fence systems, as well as providing independent support for Invisible Fence®, PetSafe®, Dog Watch®, Dog Guard®, and other electronic dog containment brands.
Our Unique Training Method Makes all the Difference
Roger McCoy, President, and owner of Pet DeFence is the exclusive provider and originator of "GentleStart™" and "SafeYard™" training methodologies. "In the early years of our business, we just weren't satisfied with the way other companies train their dogs using the old-fashioned way called "Learn or burn". That is why we developed "SafeYard™" training and people really seemed to like it." These methods are so special that they are recognized by the International Association of Canine Professionals.
Our hidden dog fence systems feature a Triple Safety Signal. Our unique training with the support of our state of the art products translates into greater safety, fun and happiness and far less stress for you and your dog. "GentleStart™" training gives you easier and quicker results on your new hidden pet fence and better long-term success. All with a money-back containment guarantee. The biggest difference is the training we provide you and your dog.
Your home is already connected to your phone. Why isn't your dog? – Introducing Pet Stop's LiNK™ dog fence collar.
You can even contact and message us (your dealer) through the app. With LiNK you'll have access to real-time information at your fingertips and so will we if you ever need help troubleshooting your dog's behavior or his collar. I can even send you programming changes for your dog's collar over the air.
LINK makes it all so easy. LiNK's breakthrough technology forever changes the peace-of-mind you get from your hidden dog fence.
With LiNK you can instantly access more receiver settings than with any other manufacturer's brand.
Only LiNK receivers and Smartphone app give you access to:
Smaller size for smaller dogs or for greater comfort to larger dogs as well – Comfort fit
Gentle Spring Contact Points – Comfort and consistent contact – Comfort, and Safety
Lower correction levels for tiny dogs – Easier training
A remote training collar feature for off-leash training – Eases your ability to fix behavior problems
On-the-fly shock level adjustments – Speed and convenience
A night-light feature built into the receiver to visually monitor dogs at night from a distance – Security
Access to thousands of programming options for special circumstances – Training ease
Simple training level adjustments during the SafeYard® training period – Training ease
Reviewable warning history to see the progress of your dog's training – Knowledge is power – Safety
Battery recharge alert on your phone so you know before your dog – Safety and convenience
Help in finding a misplaced collar using tones and signal strength monitoring – Ease and safety
"Stopper" and "Push-Back" feature for stubborn dogs that test the fence – Training ease
Higher correction levels that make "trouble-makers" think twice before testing the fence – Training ease
Your dealer can send customized programs for "special" dogs to the LINK App – Convenience
Imagine the industry's tiniest, lightest and rechargeable containment collar. Now imagine connecting this Bluetooth collar to your pet fence system through your smartphone. Stop dreaming. The wait is over and you can only get it thru Pet DeFence. LiNK is a Bluetooth-enabled dog fence receiver and smartphone app made exclusively by Pet Stop. LiNK monitors your pet's behavior and the working state of the receiver. You can proactively adjust your collar's settings with a quick click.
Call us today (913-345-2533) and be the first in your neighborhood to use a LiNK receiver.
Independent Service for Invisible Fence® Brand Owners
Do You Already Own an Invisible Fence®?
Do you need better service or just tired of the expensive battery plan they require of you? Call and ask about our Invisible Fence® Brand compatible products.
We also offer batteries and collars for Invisible Fence® brand, PetSafe®, Dog Guard® and Dog Watch®.
Call us at 913-345-2533 for your free estimate or click below: