Pet DeFence Batteries & Parts Stores located in Olathe and Overland Park
                        
Do you need a battery or other part for your collar today?
Local customers have convenient access to our self-service stores for batteries and other service parts, but not the receivers or wall-mounted transmitters. Call 913-345-2533 to purchase these major components. 
Our Overland Park Parts Store is located inside "The UPS Store" at 6709 W 119th St, Overland Park, KS 66209 (Just East Of Metcalf On 119th Street, between Dunkin' Donuts and Goodyear). You might call and verify their hours 913-345-9992  which are usually 8:00 to 6:30 PM, Mon – Fri and 9:00 to 2:30 PM Sat. Seasonal hour changes may occur.
Our Olathe Parts Store is located inside "Pawsabilities" at 2073 E. Santa Fe St Olathe, KS 66062. Call 913-490-3996 for hours. (Learn more about Pawsabilities and their wonderful collaboration with "INCLUSION CONNECTIONS")
When you arrive at the counter, please inform the clerk "I need service parts for Pet DeFence". The clerk will assist you by setting a box of parts on the counter for you to select your parts from.  These parts include every user serviceable part for PetSafe Pro, Pet Stop and Perimeter Tech. They include:
Batteries
Battery Holders
Battery Doors
Battery Caps
Nylon Replacement Collars/Straps
Contact points (Long and Long Spring)
Contact Point Retainers
Shock test lights
You will find that parts are individually priced, or prices posted inside the parts box. Please add up your purchases and deliver your check and the parts box back to the store employee.  Please be aware … This is an "Honor System" and there are no free parts. (I trust my customers because they trust me.)
While you are at our Olathe parts stores consider buying doggy treats or other dog related products. You are helping a great cause when purchasing at Pawsabilities.
We enforce a strict NO RETURNS policy at the Service Parts Stores. This is necessary as used or damaged parts can be mistakenly purchased by the next customer. You must call 913-345-2533 if you have a need to return a part.
Please, DO NOT leave dead batteries in the parts box. The next customer might purchase your dead batteries. 
Use the Correct Battery for Your Pet Stop Receiver Collar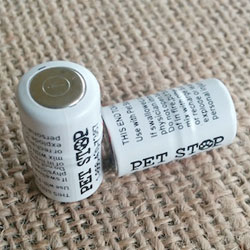 ABSOLUTELY ANY AND ALL OTHER BATTERIES VOID YOUR PET STOP WARRANTY. Note: Batteries known as 2CR1/3N, 28A, PX28, 6231, 2CR11108, 2CR-1/3N, 28PXL, V28PXL, K58L, 5005L, L544, DC5 and ANY of their equivalent batteries voids your warranty. These other batteries are just a little too long and a little too fat. Do NOT use them in your receivers. Do NOT permit a battery salesperson to insert or force these batteries into your receiver. Eventually, the stresses on the receiver plastics will cause them to crack and fail, and you will be buying a new receiver. Note: While the battery we sell is labeled "2CR1/3N", they are specially configured to fit our product while similarly labeled batteries found on other internet stores are not configured for our product to properly fit. We find they are longer or too fat or both. You may be able to force or even slip one in and screw down the battery cap on your receiver and your receiver will work. However, because of their dimensions, the battery cap will have to be forced closed and over time, excessive pressures will cause damage to the contact spring or crack open the case.  The failure is obvious to us and our manufacturer. Your warranty will be immediately void when such damage is detected.  You have been warned.

Examples of the WRONG Batteries
If you purchase batteries from sources other than Pet DeFence, we cannot warrant how long they last. If batteries from other sources run out quicker than you expect please consider purchasing your future batteries from us. Our customers tell us our batteries last longer and therefore cost less in the long run.
When inserting a new battery in your receiver, which side goes up?
The "+" side faces out when you insert the new Pet Stop 6 volt battery into your receiver. Always "Be POSITIVE that you see the POSITIVE" side facing out.